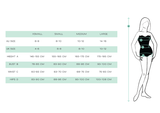 seea
riviera sea glass
the riviera pays homage to the one piece suits of the 1950's. updated with a mix of bright color and sea glass luxe textured fabric, this suit has just enough retro and a whole lotta style.

contrast bustline with adjustable shoulder straps
textured side and body panels with contrast lining
fully lined with shimmery tricot
letterpress hangtag with hairband for your next surf session
made in sunny california
"the name seea comes from my love for the sea," explains founder and designer, amanda chinchelli. "as an italian, i pronounce the name 'see-ah'. it's a feminine word, with a musicality and beauty to it." cut with waves in mind, each suit reflects a female surfer's needs, so why leave your style on the beach? simply put, seea is a celebration of the rhythm and grace of women's surfing, and the magic of riding waves.

"we are women… we are the graceful sliders of the seea."
SEEA-2014-Riviera Seaglass from The Seea on Vimeo.