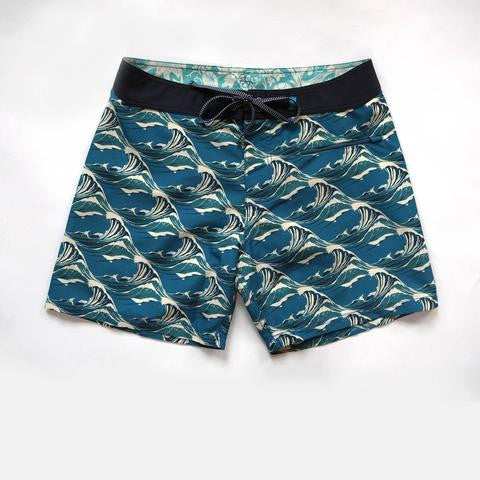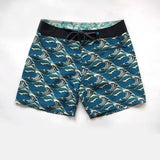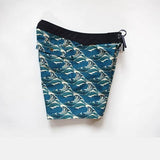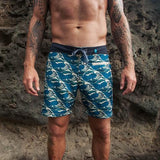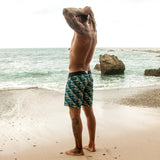 riz
waves aqua burgh boardshorts
endangered garden burgh board shorts 
from the tailors of sunshine
taking cues from both classic surf style and contemporary menswear this short delivers both in and out of the waves

100% recycled and recyclable polyester
16"/ 41cm outseam
digitally printed using water based inks in uk
sculpted waistband
zipped hip pocket
zip fly
natural corozo pocket button
made in portugal 
the eden project
10% of the sales of our current season's endangered garden shorts go to support the amazing work of the eden project, an educational charity in cornwall. eden's hq is in a stunning global garden in a massive crater. In the garden there's a full blown rainforest in the world's largest conservatory. eden works to connect us with each other and the living world, exploring how people can work together and with nature towards a better future. beyond its visitor destination, eden runs transformational environmental and social projects across the world
for more info visit www.edenproject.com 
sustainability: our oceans are littered with plastics. in an effort to do our part, every pair of riz shorts are crafted from eco-friendly 100% recycled and recyclable fabric as well as being digitally printed using earth friendly inks.
what's more, riz board shorts have their own pioneering rizcycle scheme that allows you to return your old shorts in return for a discount off your next pair; focusing the entire product life into a perpetual 360 degree process.

riz are currently working on producing a 100% fully recycled short, including all trims, and for a short made entirely from ocean plastics!

measurements in inches

waist size 28" a=15.5, b= 10.5, c= 5.5
waist size 30" a=16, b=11, c= 6
waist size 32" a=16.5, b= 11.5, c= 6.5 
waist size 34" a= 16.5, b= 11.5, c= 6.5
waist size 36" a= 17, b= 12, c=7