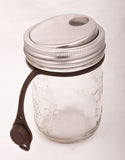 ecojarz
pop top sealable drinking jar lid
sealable drinking jar lid – green or brown
• reusable drinking jar lid made of non-reactive stainless steel and silicone
• silicone plug and band makes sure that there is no spills!
• no: bpa, phthalates, or chemical leach
• fits any wide-mouth canning jar
• silicone band and plug come in green or brown

ecojarz poptop turns any wide-mouth canning jar into the perfect spill-proof container for water, juice, smoothies, bulk food storage, and so much more. the silicone plug makes a tight seal, ensuring that not a drop is lost. so go ahead, screw it on your jar, pop in the plug, throw it in your bag, play catch with it, or just give it a big hug!

check out the video!
PopTop Sealable Drinking Jar Lid from EcoJarz on Vimeo.
poptops are non-reactive and can be used with hot or cold beverages without any worry of chemical leach. the wide hole is ideal for easy sipping, pouring and storing. the plug is attached to a silicone band that slides over the jar, so you won't lose it. there is a small notch in the silicone band that is designed to hold a straw, so you can have it with you when you need it.

we recommend washing your new ecojarz poptop lid thoroughly with soap and water before use. dry your stainless steel lids and jar bands well after washing and store in a dry place. the product is dishwasher safe. made of 18-8 food grade 304 stainless steel and fda-approved silicone.