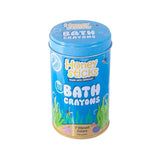 honey sticks
beeswax jumbo bath crayons
jumbo 100% natural bath crayons.
food grade colourants that will wash off easily. all natural soy beeswax blend.
jumbo size encourages good finger/hand grasp for writing
honey scent
7 vibrant colours: light blue,red, green, orange, pink, yellow, brown
10cm long x 2cm wide and comes in a handy tin
honeysticks all natural beeswax crayons are made from new zealand beeswax and non-toxic pigments so they are natural and safe for children.

the beeswax to create honeysticks is a natural by-product of honey production. the sustainable process causes minimal impact on the environment and gives the crayons a wonderful scent of honey.
made from nz beeswax
non-toxic ingredients
safe for children
environmentally friendly
made in new zealand
unique durable and ergonomic shape