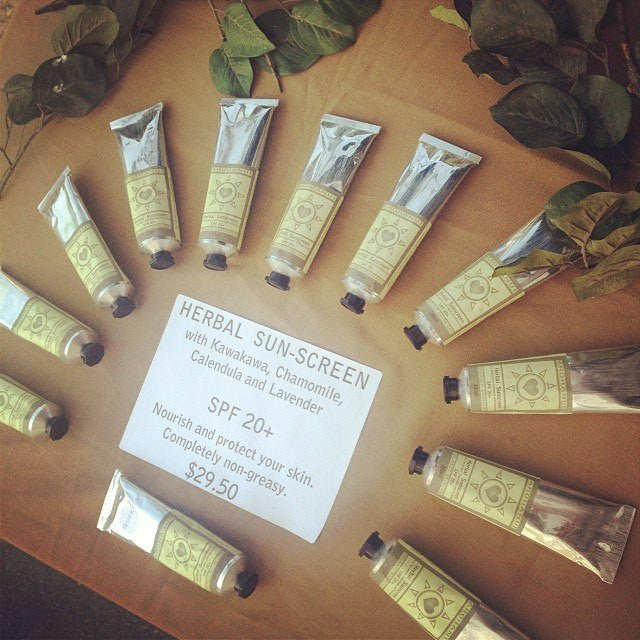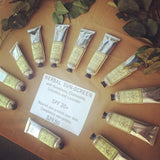 arohanui
herbal sunscreen spf 20+
with lavender, calendula, chamomile and kawakawa to soothe and protect your skin.
active ingredients: micronised zinc oxide (non nano) 20%, cold-pressed raspberry seed oil 10%
this sunscreen is completely non-greasy, in a base cream very similar to arohanui's day cream formula. it smells heavenly and is readily absorbed.
any larger zinc particles left on the surface can be easily brushed off once the cream has absorbed completely.
effective and pleasant to use. re-apply after swimming or exercise.
100ml
natural, organic, cruelty free
arohanui botanicals
arohanui botanical skincare is handmade with love in golden bay, new zealand. our products have come to be through the love of herbs and a passion for the process of transforming beneficial plants from mother nature into something that can be utilised and enjoyed by everybody.

formulated and produced in small batches by a qualified naturopath and registered herbalist, arohanui provides luxurious organic nourishment for your face, body, and baby.

arohanui are passionate about organic and sustainable practice in our lives and business, which is why only the best quality botanical ingredients go into our products; organic & sustainably wildcrafted oils, butters and waxes, therapeutic grade herbal extracts and essential oils. and, of course, love.