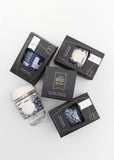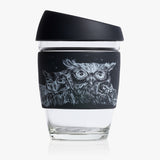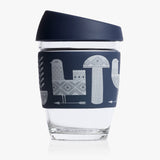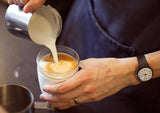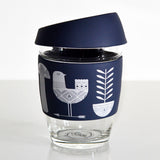 joco
artist series glass reusable coffee cups - 12oz
joco artist series - a limited edition collection of joco cups
adrian (ado) knott
adrian 'ado' knott loves surfing and birds. birds are his favourite creatures. the ones that reside in his tropical sunshine coast (oz) backyard inspire him most. his pet budgies ratty and buddy roam the house as he works on his commercial art, surfboards and surf brand 'rake'. ado has a distinctive graphic style. "it's mostly a little naive and vintage inspired with a modern twist." says ado, "i like overlaying textures to create depth." for his joco artist series design, ado explored his interest in birds and nature to create a piece that would look familiar on retro nordic ceramics. the art is clean and simple with overlaid patterns.
 jen lobo
artist jen lobo feels most at ease in nature. her semi-realistic style, melds her love for drawing and painting with her insatiable curiosity and admiration for animals. "i try to replicate that love in paintings while also exploring human nature, personalities, and relationships." says jen. in the pacific northwest of the united states (portland, oregon) jen and her brood have settled on a little island with woody forests, deer and many, many birds. the island, part agriculture and part wildlife reserve, is as diverse as it is beautiful. it is also the inspiration for jen's joco cup design for the artist series collection. "i wanted the piece to have a woodsy feel to it and reflect the feel of the island we are living on." says jen, "once the sun goes down, it is so completely dark. there are no streetlights, no businesses, and few homes. on clear nights, the sky is lit up with stars. owls seemed like an appropriate choice to accompany that scene." the trio of owls are less common species and include the striped owl, the buffy fish owl and the ferruginous pygmy owl. all unique birds illustrated huddled up so that at first glance you cannot tell where one ends, and the other begins. 
taste your coffee not your cup 12oz joco glass reusable coffee cups
coffee fest NYC 2014: first place in the category of best 'new non-consumable' product
made from strong borosilicate glass, the joco cup is a stylish sturdy and smart solution to enjoying your everyday cuppa, without beating up your taste buds or mother nature.
every joco glass cup is microwave safe, bpa free and modelled after standard disposable coffee cup sizes, making them your barista's and the environment's new best friend. 
joco cups are made from borosilicate glass. this is toughened, lightweight, 100% bpa free, lead free, heat resistant, dishwasher and microwave safe glass that is also used in cookware, modern baby bottles, laboratory glassware and common domestic appliances.
experience life's luxuries without conceding taste, smart design or the natural environment & check out the stylish plywood carrier as well!
annually, 220 billion paper cups are used worldwide and those figures are rising by the millions each year. that's a crazy amount of trees cut down every year for the sake of convenience. this impact on the environment will only continue to increase.
plastic is a solid step, but glass is a logical leap. for something that is a part of your daily routine, plastic just doesn't have the stamina. it scratches easily, degrades in appearance from use and gets less sanitary over time. worst of all, it affects flavour.

bpa, otherwise known as 'bisphenol a' is a controversial and unfriendly chemical that is mainly found in polycarbonate plastic resins and epoxy resins. These resins are what you'll find in everyday food and drink packaging.
bpa is a toxic chemical that scientists have linked to numerous health risks. globally, a host of countries have wisely elected to ban bpa. quite simply, this chemical should be avoided.

the best and easiest way to avoid exposure to bpa is by opting for glass containers whenever possible and applicable. when using plastics, ensure they are bpa free.
coffee never looked so good