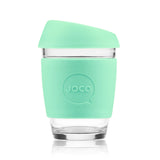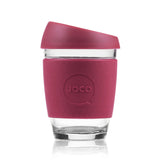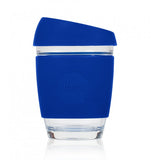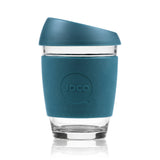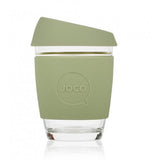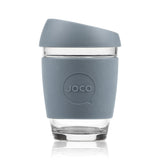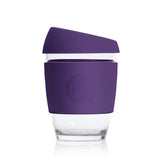 joco
glass reusable coffee cups - 12oz
taste your coffee not your cup 12oz joco glass reusable coffee cups
coffee fest NYC 2014: first place in the category of best 'new non-consumable' product
made from strong borosilicate glass, the joco cup is a stylish sturdy and smart solution to enjoying your everyday cuppa, without beating up your taste buds or mother nature.
every joco glass cup is microwave safe, bpa free and modelled after standard disposable coffee cup sizes, making them your barista's and the environment's new best friend. 
joco cups are made from borosilicate glass. this is toughened, lightweight, 100% bpa free, lead free, heat resistant, dishwasher and microwave safe glass that is also used in cookware, modern baby bottles, laboratory glassware and common domestic appliances.
experience life's luxuries without conceding taste, smart design or the natural environment & check out the stylish plywood carrier as well!
annually, 220 billion paper cups are used worldwide and those figures are rising by the millions each year. that's a crazy amount of trees cut down every year for the sake of convenience. this impact on the environment will only continue to increase.
plastic is a solid step, but glass is a logical leap. for something that is a part of your daily routine, plastic just doesn't have the stamina. it scratches easily, degrades in appearance from use and gets less sanitary over time. worst of all, it affects flavour.

bpa, otherwise known as 'bisphenol a' is a controversial and unfriendly chemical that is mainly found in polycarbonate plastic resins and epoxy resins. These resins are what you'll find in everyday food and drink packaging.
bpa is a toxic chemical that scientists have linked to numerous health risks. globally, a host of countries have wisely elected to ban bpa. quite simply, this chemical should be avoided.

the best and easiest way to avoid exposure to bpa is by opting for glass containers whenever possible and applicable. when using plastics, ensure they are bpa free.
coffee never looked so good